Products
Shooting Sports – Firearms
A firearm enthusiasts' visit to the Gun Shack/Crosswind is like a kid being turned loose in a candyshop!
Modern Firearms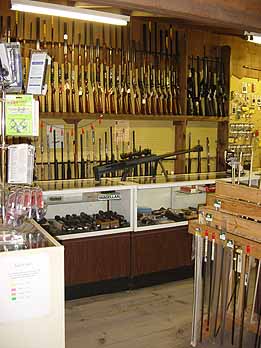 You will find an extensive collection of both new and used rifles from large calibers to .17 along with a selection of handguns. All of the major manufacturers are represented. You may also choose from a wide variety of shotguns, both new and used from Benelli, Browning, Franchi, Mossberg, Remington, Weatherby, and others. We carry specialized camo turkey and deer hunting models to high quality over/unders for trap and skeet.
Personal and home defense models are also stocked.
The firearm inventory is complimented by a full line of ammunition for all the popular rifle and handgun calibers as well as shotgun shells. And for the do-it-yourselfer, we carry a very extensive line of rifle, handgun, and shotshell reloading equipment and supplies including presses, dies, shell holders, scales, primers, bullets, shot, and powder.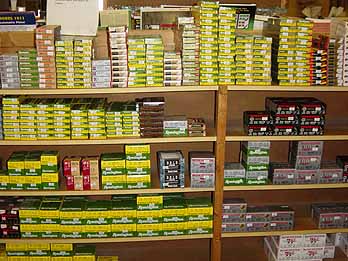 To assist in getting your new firearm ready to use we have a wide variety of rifle and shotgun scopes, and a large inventory of scope mounting blocks and rings. Our knowledgeable staff will mount scope sights and bore sight your gun, generally while you wait.
Muzzleloading Black Powder Rifles
You can choose from a variety of muzzleloaders which range from primitive flintlocks to the highly accurate inline rifles and all of the associated powders, primers, patches, balls, lubricants, and cleaning supplies and accessories. Manufacturers include Thompson Center, Knight, Winchester, and Traditions.
Air Rifles
A selection of air rifles is available including BB guns and target quality pellet rifles and ammunition. A selection of BBs, pellets, and airgun maintenance supplies are available.
Accessories:
Gun Shack/Crosswind All Outdoors carries all of the accessories and adjuncts used in association with the shooting sports and hunting. You can select spotting scopes, knives from functional pocket knives to hand crafted hunting blades, binoculars, rangefinders, gun care and cleaning supplies, gun cases, holsters, hearing protection, shooting glasses, a variety of hunting lights by Browning, compasses, calls, hunting scents and lures, and daypacks.
Shooting Sports – Archery/Bowhunting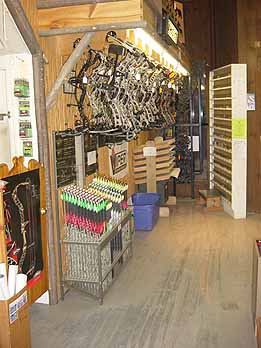 Gun Shack/Crosswind All Outdoors includes a full-service archery pro shop carrying compound bows from Mathews, Mission, and Hoyt for both the target archer and the bowhunter.
For the traditional archer, we carry recurve and long bows by Martin (Howatt), Hoyt, October Mountain Products and PSE along with broadheads, quivers, strings, books and traditional leather accessories. We often have a selection of used traditional bows as well. You can choose from an inventory of aluminum, carbon and beautifully crested cedar arrows to complete your outfit. Or, for those of you who like to have a hand in making your own equipment we carry the raw cedar shafts, feather fletching, nocks, points, and other materials you will need.
We carry a full line of arrow rests, sights, stabilizers, and quivers in stock from each of the four compound bow manufacturers we represent.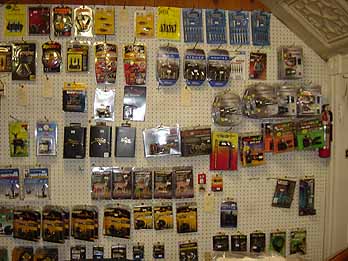 Aftermarket accessories are also available from most of the popular manufacturers like Alpine, Cobra, Fuse, QAD, and Trophy Ridge. We carry noise and vibration dampening devices from Sims Laboratories, along with a variety of string peeps as well as other string accessories.
For those of you who are into bowfishing, we carry fishing arrows, points, reels, and associated accessories.
The pro shop carries an extensive inventory of arrows including aluminum and amuminum/carbon composite from Easton, carbon arrows from Easton, Beman, and Carbon Express in both vanes and feathers.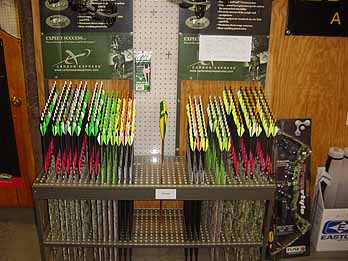 Trained staff are available to measure and cut arrows and install inserts and nocks. Both plastic vanes and feather fletching, raw shafts, and nocks are available for arrow building. Custom fletching, arrow repair, refletching, and cresting wrap services are available.
Popular brands of both fixed blade and mechanical broadheads are available for your bowhunting needs.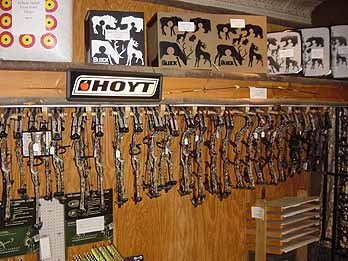 To keep you practicing, we have a variety of target faces and archery butts available including the great "BLOCK" series, as well as bag targets.
For those archers interested in horizontal archery, we handle the line of excellent, high quality crossbows from Mission. All of the accessories, including scopes and crossbow bolts are available.
The shop maintains a 10-yard indoor archery range for providing instruction, bow tuning, and chronographing.
Fly Fishing

Fly fishing is a passion with Gun Shack/Crosswind. Days off during spring and summer will find the staff in solitary pursuit of native brook trout on small forested brooks or casting over feeding browns in larger central or western Maryland streams. Perhaps that's the motivation for our fully stocked fly fishing shop. So whether you are after our beautiful native brook trout, feisty smallmouth bass, farm pond bluegills, or striped bass of the Chesapeake Bay, our fly fishing shop is the place to begin.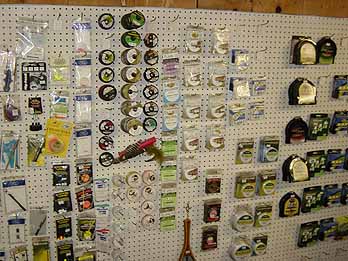 A selection of Cortland lines to fit all purposes are available along with leaders, leader material, strike indicators, fly dressings and boxes.
We stock over 200 different patterns of flies and bass bugs from standard ties to local specialty flies. Our knowledgeable staff are available to provide guidance on flies that are effective on local waters.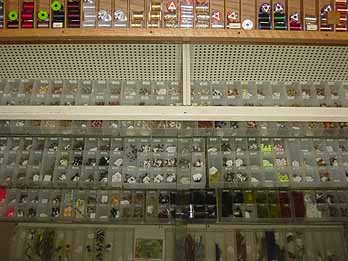 For those of you who want to experience the ultimate satisfaction of catching trout on your own hand tied flies, we carry a full line of fly tying materials including hooks, feathers, furs, threads, synthetic materials, as well as vices and other tools necessary to make your own. Manufacturers represented include Cortland, J. Ryall, STH, Loon Outdoors, Whiting, Umpqua Feather Merchants, Tiemco, Primeline, and Wapsi.
Our group of local fishermen are constantly updating us on what's working and what's not. Be sure to stop by on your way to the stream for local conditions and recommendations.